Ajloun Authentic Experiences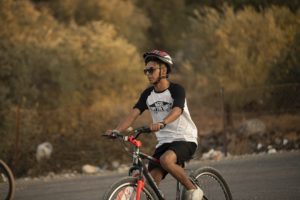 Are you a cycling enthusiast but don't find the right place to do this kind of sport? What if we tell you that this sport is now available for the first time in Ajloun. We combine the breathtaking nature and fresh air with exercise, you get health and psychological comfort at the same time and in a one place. The cycling instructor Abdullah says that there are many tourist paths within the province that can be used sport cycling with flexibility and safety, which gives the visitor to this province many options for practicing different tourist activities (in an innovative way) to prolong the stay of the visitor within the province, which is A tourist booster for tourist realities within the province. These tourists are considered cycling tourism of non-existent and non-practicing tourists inside Ajloun governorate, which has become necessary to experience and promote these tourists, which face a great demand through tourists and visitors to the Ajloun governorate, which in turn enhances the employment opportunities of the local communities through these tourists and open tourist destinations and windows New promotes areas and communities not listed on the tourist map. Ajloun governorate has many tourist routes that tourists can enjoy using private bicycles which are prepared to walk safely on these routes. Abdullah also adds: We look forward in the future to invite clubs and bicycle practitioners within the Kingdom to an annual festival under the name of Touristic Ajloun tour, during which visit the most famous tourist places and paths using bicycles to be held this raft twice in the spring and the beginning of autumn. Book your trip now with Ajloun cycling team and get to know Abdullah and follow us constantly to see the latest developments in cycling on the Ajloun Heights.
From Ain El Baida Restaurant in Ajloun, the smell of the delicious food comes, and the laughter of visitors from all over in Jordan is so high. Ain El Baida Restaurant is located few kilometers from the city of Ajloun. The owner of the great woman who is called Um Hanafi. There is no single person who came to Ain El Baida Restaurant and returned to his town without being so happy because of this funny woman, and because of her sense of humor and the lightness of her shadow. Um Hanafi is gentle with all whom she knows and do not know. Ain El Baida Restaurant is located in the mountains of Ajloun governorate, where the charm of green nature, forests and base. Where there is a fresh nature and a fresh air, comfort and contentment. The most beautiful thing that distinguishes the Ain El Baida Restaurant from other relaxing places and the reason for the so-called break is the natural running water that passes from the break, which is named the Eye. As for the food, choose what you crave with closed eyes, because the food is prepared and presented by Ms. Um Hanafi, the flavor does never disappoint. You can then sweeten your mouth by picking fresh fruits from figs and pomegranates that you are sitting under their shade and inhale their pleasant smell. If you don't want to eat figs or pomegranates now, you can take some. And then come back a new psyche to your home in the city, and whenever you miss this relaxing atmosphere, we are waiting for you with our full equipment in Ain El Baida Restaurant.
Rason tourist camp – the charm of nature, the splendor of the place and peace of mind. Rason Tourist Camp is located among the nature peaks on the highest peaks of the town of Rason of the camps and tourist resorts Ajlouni that visitors come from all regions of the Kingdom and from Arab and foreign countries because of its privileged location and services provided to visitors. Rason camp is located on a mountain overlooking the forests of Ajloun. The tour starts with breakfast at checkout and lunch at checkout. The camp offers adventures such as mountain landing, ferry and hiking. In addition it offers camping services.
From the mountains of Ajloun governorate, the charm of the green nature, the forests Anjara and Al-kaeda. Then at the summit is the Reef Springs Resort of Um Anas, where there is breathtaking nature and fresh air, comfort and happiness, and the pleasure of hiking in all seasons of the year. Once you arrive at the countryside resort, you will feel great comfort away from the bustling city life and away from daily chores and boring routines. Surely you wonder what distinguishes this park from others! There are hearts beating you with love and life, the presence of Um Anas in the resort adds to the charm of a special kind, and is reflected in the personality of Um Anas generous genuine and hospitality. She hosts you at her home but makes you feel as if you are in your own home, providing you with everything you might need, and everything you might lack on your trip. Not only that, but Um Anas offers you the finest Jordanian and local cuisine. What makes The Reef Springs Resort more beautiful than other places is the wild birds that fly in the sky as if they welcome the visitors who visit the resort at the tops of the Ajloun Mountains. And you are definitely wondering what to do now? All you have to do is riding your car and drive to the road to Amman-Jerash, and from the city of Jerash please head west towards the mountains of Ajloun province, and after about five to six Km find a crossroads leading to Ajloun province, and when the smell a nice smell of food, follow the smell and it will lead you directly to the Reef Springs Resort where you will find Um Anas and her delicious food waiting for you. http://sawwahtravel.com/trip.php?id=153
Ibrahim Al Qurashi Honey & Apiaries
Beekeeping is one of the branches of agriculture, and is one of the most successful agricultural projects, so many farmers who are beekeepers seek to pay attention to their bees and care to produce honey and wax and royal jelly and pollen with high quality. Al Qurashi for the production of honey bees / tourist exhibition is an open place with high views and a quiet session between the embrace of nature and forest trees and wild flowers among the scenic. The tour takes you on a honey production journey from caring for hives to taking care of them and extracting honey from them.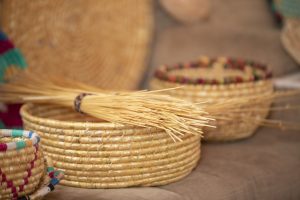 Thus they resolve for the village women to call it. The first stages of this industry begin in the summer, where women and girls meet on the Bayader, where piles of wheat harvest and begin to collect and arrange the stems of wheat after separating the spikes and choose the appropriate part and optimal for the industry. The appropriate part is from the bottom of the spike to the first node in the leg. Usually the length of this segment is about 40 cm. Women collect these parts in the form of a bundle (group) and continue this process until the collection of enough need for what it wants to manufacture. Samira Nawasra Hay Industry Project A project located on a main street between Kafr Khal and Sakhra.
Arhaba area, from the beautiful highlands on Ajloun governorate road. This town is characterized by its rise from Ajloun city and its atmosphere in summer and spring is moderate and cool evening. The Arhaba Path is a short 4-kilometer trek starting from the Arhaba area and ending in the Anba area. This track is misleading, easy and suitable for all ages. It is great to take your family and children, or to coordinate you and your friends out on this tour. Breakfast is served during the course, and after completion there is a special landing activity, then followed by lunch in a special tourist resort, with Kunafa sweets and tea, which is served during the tour.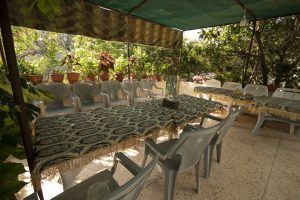 Have you imagined how the session would be in a house with a garden with trees like olive trees? How will you enjoy drinking tea surrounded by perennial and fruit trees? Yes, it's Mariam's House. It is a three-room house where the visitor can enjoy getting down in his garden. The house is located in the Arjan area, and tourists can enjoy various local meals and take memorial photos in this wonderful house, with friends and family. A warm experience that makes you feel like enjoying a family session at home.
Pottery is made using this technique using hand and clay only. In the pottery, the old broken pottery is collected and grinned manually, and then the brown earth is brought, grinned and mixed with hair and water. Tabun ovens are also made in small size, and feature mobility, and are displayed in tourist exhibitions and sold to tourists
Landscape photography is a favorite of professional photographers and amateurs alike. As for the Ajloun reserve, it is a place of beauty and splendor, because it is located in the highest mountains overlooking Mount Hermon, and around the green trees such as oak, buck thorn and domes, surrounded by unique animals and birds, and wild grass. Visiting this place allows the visitor the psychological comfort of the nature of the place. There is an overnight service and meals service such as folk food and buffet open all kinds of food.
The forests are witnessing a huge turnout and active movement of citizens throughout the week as it has a beautiful natural aesthetics, sheltering hundreds of animals, birds and neighborhoods in large numbers, according to studies and researchers over 500 species. The forests of Burqash are characterized by their beauty, spring, environment and forests rich in biodiversity, high mountains, orchards and valleys rich in water and shadows, making it a kiss for domestic tourism, where recorded a presence and visit during the past three months in the winter tourism, hiking, adventure and recreation by citizens more than 400 thousand citizens if not more. Located in the area of Burqash, Jabal Burqash camp is overlooking the picturesque forests of Burqash.It offers accommodation, food, drink, haiking and walking along a tourist path in the Zubia valley to Burqash cave at a distance of 7 km.
Spring apiaries, a piece of land in the Ajloun region, which is breeding apiaries at a high level of cleanliness and quality. Production begins with 4 bees collecting honey, where there are 180 hives, with 6 workers to collect honey when it matures with cells, and is sorted by an electric separator and packaged, and displayed in the facility and tourist exhibitions.