Tips before traveling to Petra
Tips before traveling to Petra
The Jordanian city of Petra is known by its visitors and readers
as the "pink city" in relation to the color of the rocks that formed its unique building
a city similar to the castle. It was the capital of the Nabatean state.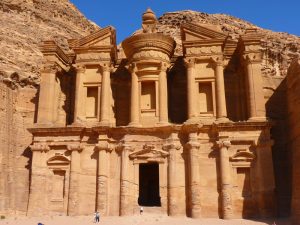 A historic city located in Jordan, south of the country 225 km south of the capital Amman
. west of the main road between the capital Amman and the city of Aqaba
Tips before traveling to Petra
 if you are a fan of travel, you have certainly heard about the Jordanian city of Petra and have been happy to visit it.
It is one of the new wonders of the world and a site for filming a number of films and also a UNESCO site,
but many travelers may not know much about the ways Make their journey fascinating and smooth
and get to know some tips that make your experience more enjoyable when  traveling to Petra
1- Best time to visit Petra
Petra is a hot place especially in the height of the summer months,
and it is the best time to visit during the spring (March to May) or fall (September to November), with temperatures around 18-25 ° C.
As for the most appropriate time of the day to visit, if you are ready to go there with the sunrise at 5 am
it means not to be exposed to the intense heat of the sun, as well as to enjoy the crowds, as you can in the afternoon.
2- How much time you need to explore Petra?
You can easily discover Petra in one day and you can spend 5-6 hours or even 10 hours
however, today gives you plenty of time.
Petra is open at night on Mondays, Wednesdays and Thursdays for night trips. The tour begins at 8:30 and ends around 10:30. Very popular and many visitors prefer.
3-what is the best way to reach Petra?
You can reach Petra from the airport and the journey takes about four hours by taxi.
You can also travel by public bus directly to Petra from Amman Bus Station and take about the same time.
If you hire a car to ask the driver to take you from the royal road, this road has wonderful views,
and there you will find wonderful sights and most likely will stop more than once to condense pictures.
4-What should I bring to Petra?
Wear comfortable clothes and preferably cotton.
Shoes should be sturdy for you to walk around with a hat and sunglasses. Also make sure you have a supply of water to withstand temperatures that usually go down dramatically when the sun goes down
In this article Tips before traveling to Petra,
we have given you some tips if you decide to travel to Petra
this city that deserves a visit and discovery which is one of its most important experiences worth living