Jordan
The Hashemite Kingdom of Jordan , is an Arab kingdom in Western Asia.
A safe country  , it has delighted visitors for centuries with its World Heritage Sites, friendly towns and inspiring desert landscapes.
The capital, Amman, is Jordan's most populous city, and the country's economic, political and cultural center.
the safest of Arab countries in the Middle East.therefore it is a preferable sight.
community is one of the best in this region that presents a good example of religious coexistence.
In many different places and cities of this country, you can notice a lot of churches are side by side with mosques.
 Weather and Climate
there are 3 distinct climatic zones; the Jordan valley, Mountain Heights Plateau, and the Desert or Badia region, which  75% of the total land area .
the weather truly consists of 4 seasons: Autumn, winter, spring, and summer. Most of the tourist attractions lie in the mountain heights Plateau, a strip which runs along the western edge of the country, and the Jordan Valley, which lies next to the Dead Sea; the lowest point on the surface of the earth.
Currency :
JOD (Jordanian Dinar)=1.4 USD .
Official language :
Arabic
English language  is the second  language in the country.
Tourism in Jordan Kingdom
health tourism which is focused in the Dead Sea area
 education tourism
hiking and ecotourism
scuba diving in Aqaba's coral reefs .
pop-culture tourism
shopping tourism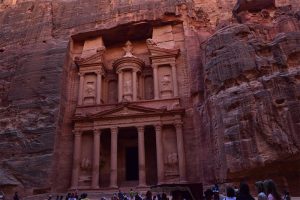 Tourist sites and destinations in Jordan:
Petra
Jordan River
Mount Nebo
Historical and religious sites in Madaba
Wadi Rum
Gulf of Aqaba
Dead Sea Area.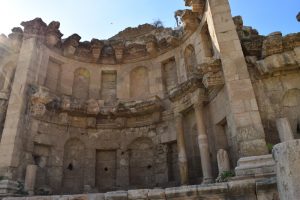 Historical sites and Natural Reserves